---
Work Day Reminder, Dec 19 2020
The next Travis work day, is Saturday December 19, 9 am – 12:00pm.
Meet at Clarevale Park at 9 am. Click on the adjacent location map for a more detailed view.
We'll will be doing some plant maintenance near Clarevale Park again this month, so you can go there directly. There will be someone there by 9am as well as at the Education Centre to direct people who miss this message. Please join us.
All tools provided. It may be wet underfoot, so gumboots are advised. If you don't own any we do have some for loan.
We will be having a BBQ at the Education Centre following the work day to celebrate the end of a difficult year.
---
Latest News
Last Work Day, 21 November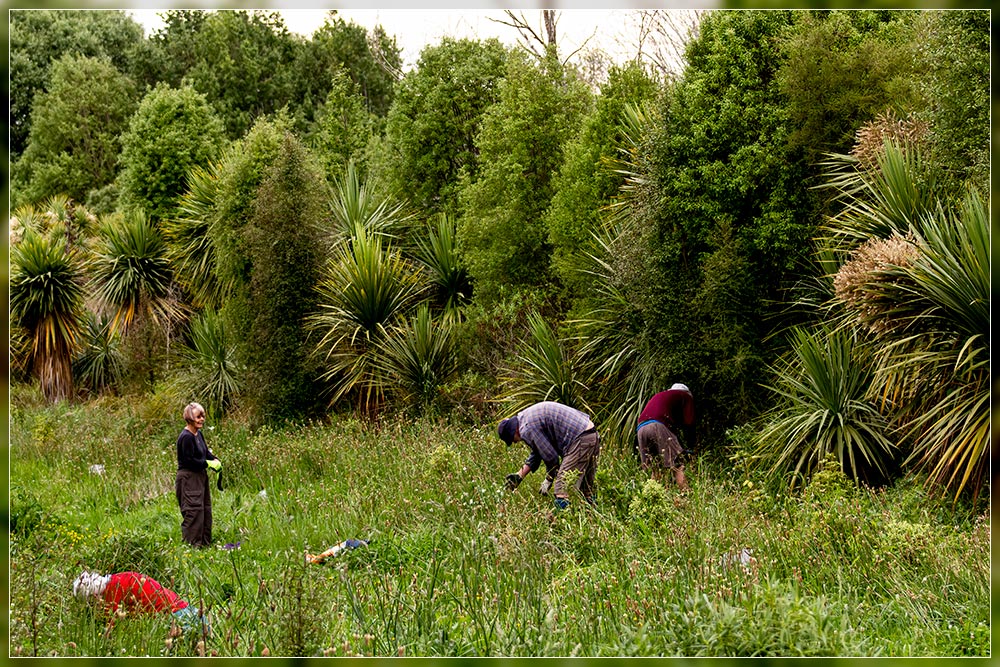 The weather provided a mild and calm morning, which was perfect for our task of releasing plants along the Clarevale western boundary. Many of us had not visited this site for some time and it was a good opportunity to check on progress.
Our team of eighteen people energetically attacked the thigh-high grass and weeds around hidden trees and shrubs. Soon the narrow grassy strip was transformed and it was pleasing to see very healthy growth on the native species, especially on the western side. The area looked very tidy ready for Waitakere School to plant some more trees.
Some keen folk were seeking bigger challenges and ventured into the wilderness of willows on the eastern side. This area did not disappoint and provided plenty of tangled blackberry and convolvulus for a total body workout.
We also had time to water many of the newly weeded plants to give them a better chance on the sunny and windy days to come.
As noon approached it was difficult to find all our volunteers hidden in the shrubbery, but we eventually got everyone back to the Education Centre for very welcome refreshments. Thanks to everyone who came along.
Article: Sue Britain, Images: Grahame
---
Membership Renewals
A lot of members have responded to sub renewal forms posted to them before the AGM, but if you didn't receive one there are several ways you can renew your membership or join for the first time. On the Membership Form page of the website there are buttons for joining and paying with a credit card online. Or there is a form you can fill out if you'd rather pay by internet banking or cheque. Note that our bank has told us that cheques will no longer be accepted after June this year, so unfortunately the days of paying by cheque are numbered. If you have concerns about not being able to pay by cheque, please talk to your bank or contact the treasurer Dave Evans (dave.evansii@gmail.com, 366 0628, 021 043 7128) and he will try and help.
---
Waitākiri School Plantings
For many years classes from Waitākiri (formerly Windsor and Burwood) School have come to Travis to plant trees for Arbor Day. When I say "many" I really mean it, as there are now parents who came to plant as children coming back with their own children. Due to episodes of bad weather around Arbor Day in June the plantings have been rescheduled until later in the year. Especially late this year due to Covid. Even late November was not close enough to summer to get perfect weather and on Monday 30 November the plantings for 4 groups totalling 182 children had to be postponed until later in the week due to rain. The total number of children scheduled to take part in a planting over the week was 600, so it's a major task for the CCC rangers and volunteers from the Trust. This year the planting was along the western edge of the wetland near Clarevale Park, so very close to the school. It's a fabulous event to take part in and an exercise in the organisation of chaos. Thanks to the children, parents, teachers, rangers and volunteers for a heart-warming celebration of Arbor Day.
Article and image: Dave Evans
---
Travis Wetland Trust T-shirts
A few years ago we purchased a pile of T-shirts for sale to supporters and there are still some left. They are doing no one any good sitting in the back room of the Education Centre so the price has been reduced to $16 in order to move them on.
They will be available at the December work day around lunchtime, or contact Dave Evans (dave.evansii@gmail.com, 366 0628, 021 043 7128). First in first served. This is what we have left:
| | | | | |
| --- | --- | --- | --- | --- |
| Number | Style | Size | Print | Colour |
| 3 | Women | 10 | Pūkeko | Forest green |
| 2 | Women | 12 | Harakeke | Forest green |
| 1 | Women | 12 | Pūkeko | Forest green |
| 1 | Women | 12 | Pūkeko | Forest green |
| 1 | Women | 12 | Harakeke | Forest green |
| 1 | Women | 14 | Harakeke | Forest green |
| 3 | Women | 14 | Pūkeko | Forest green |
| 1 | Men | S | Pūkeko | Forest green |
| 2 | Men | S | Harakeke | Forest green |
| 1 | Men | XL | Harakeke | Kelly green |
| 1 | Child | 6 | Pūkeko | Kelly green |
---
Recent Images
Images: Grahame