---
Work Day Reminder, December 18 2021
Provided Covid doesn't throw us any curve balls before Saturday (18 December) the usual monthly work day will be held at Travis from 9.00am – noon.
We will respect the Covid restrictions of the traffic light colour that applies. Please scan the QR code at the door of the Education Centre or fill out a contact tracing form. We are not planning to require the presentation of a Covid vaccine pass, unless the CCC requires us to do so. Following the work day will be a BBQ to celebrate a year's workday efforts. This will be structured to avoid close contact.
I don't know what we will be doing this month, but it's likely to be weeding of one sort or another. If you arrive late there will be a notice on the Education Centre door saying where we have gone.
All tools provided. It may be wet underfoot, so gumboots are advised. If you don't own any we do have some for loan. Please bring your own gloves.
---
Latest News
Report on Last Work Day, 20 November
This Saturday morning had perfect mild conditions for our trek down to the southern woods near Travis Road. The turnout was impressive, with about 25 people from Fo Guang Shan Temple (Buddha Light International Association) in Riccarton Road coming along to help 10 of our regular volunteers.
The access road had dried out well for spring and we enjoyed checking out previous plantings and pied stilts with chicks along the way. Our ranger, John Skilton, demonstrated how to remove weed species from this patch of Matai-Totara forest. Target weeds were mainly cleavers, European grasses and hemlock. Our timing was perfect for pulling the rampant cleavers down from taller trees to prevent spread. We were also able to uncover smaller plants that had been completely engulfed by weeds. Five plants of the noxious weed Great Willowherb (Epilobium hirsutum) were found and carefully removed before their flowering season.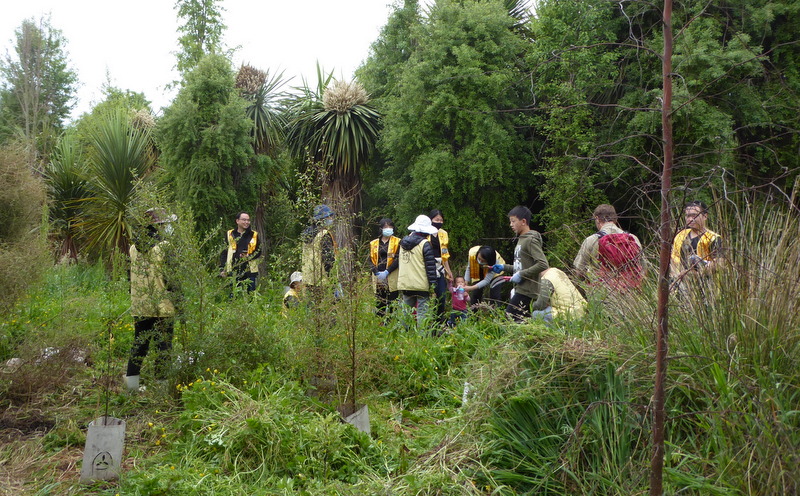 Observations of recent native plantings showed that many were doing well. Losses seemed to be mainly broadleaf, larger-leafed pittosporums and lancewoods. Possibly these relate to spells of being too water-logged during winter.
A lucky find was a goose nest with 3 eggs and a shining cuckoo was heard before the stroll back to base for refreshments. Thanks to our visitors and regulars for a productive morning.
Article: Sue Britain, Images: Dave Evans
---
Information Centre Panels
A completely new set of panels has been developed and installed in the information centre. It must be 20 years since the previous set were made.
There are still 4 panels to be added before the update is completed.
There's also a new interactive fish information display by the bridge on the way to the bird hide.
Thanks to Karyn Durham, Sarah Mankelow and Lynda Burns of the CCC for the design work and to Grahame for contributing many stunning images.
Article and images: Dave Evans
---
Conservation Volunteers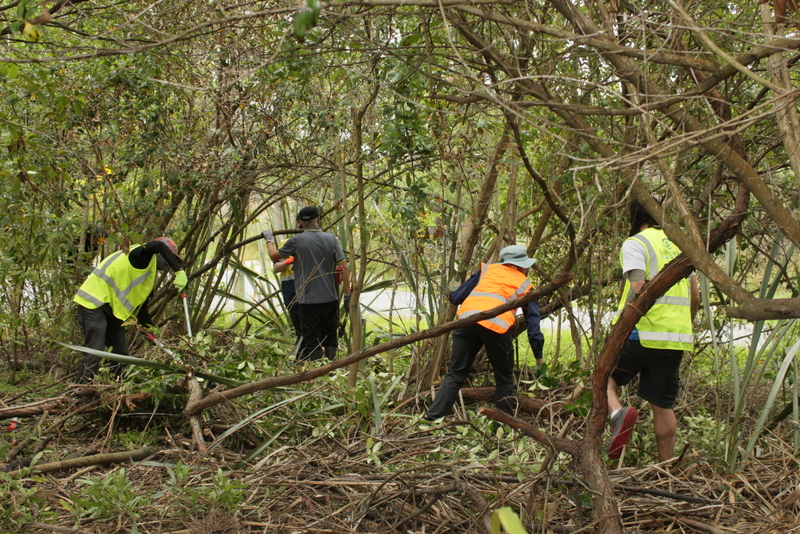 A 12 week training course for interested people is currently run by Conservation Volunteers in Christchurch.  Travis Wetland was fortunate to have them on site Wednesday 1st December. 
A guided walk around the Wetland revealed to them wetland types ranging from open grazing marsh to willow woodlands, which have many New Zealand native plants growing and thriving. The participants viewed the many resident birds with their young.  
Following a lunch break the group willingly and energetically embarked on removing undergrowth from the stand of trees at the Beach Road car park. Unfortunately this has been necessary due to ongoing break-ins to parked vehicles happening throughout the day. Chopping, sawing and cutting the branches has made for a much better view through to the road on the other side. This should make it more difficult for thieves.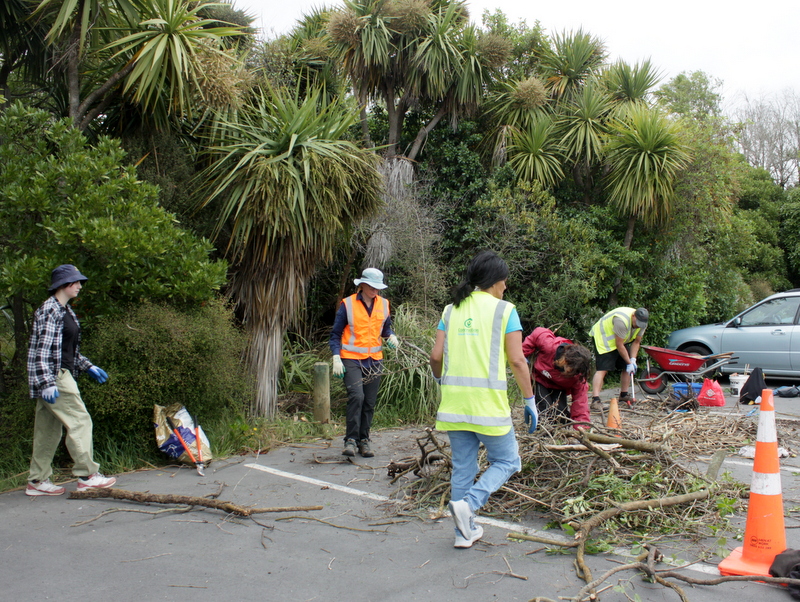 After completion of that task, the volunteers grubbed burdock and hemlock, two unwelcome residents on the old dunes.  Time was left for rewarding them at afternoon tea time with a sit down where they were treated to Grahame's beautiful, professional presentation of our Wetland inhabitants ranging from moths and butterflies, insects, birds,  plants – a truly amazing selection of natural inhabitants. 
Thank you to Sam and Donna for including Travis in your schedule.
Article and images: Eleanor Bissell
---
Whakaata mai te Kūkūwai: Reflections from the Wetlands Exhibition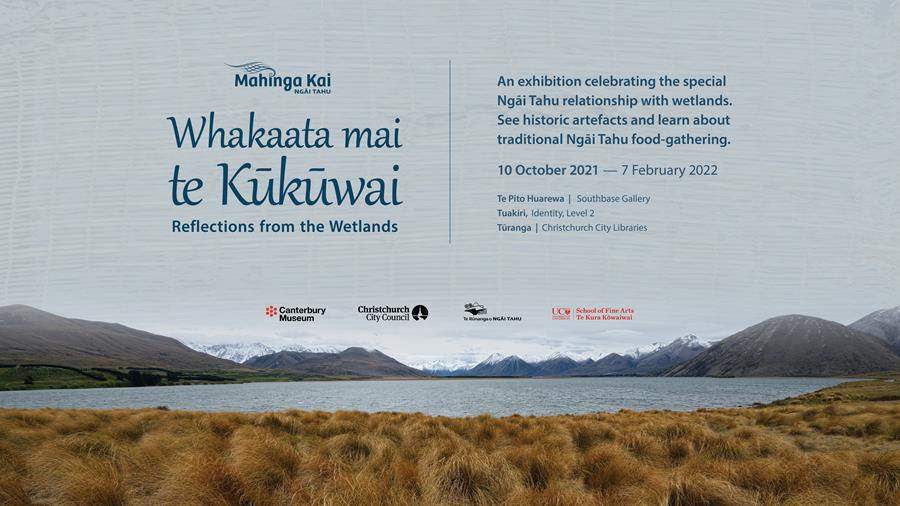 I hora te mahi a te repo, a kai, a tāngata
Wetlands in abundance, food in abundance, people in abundance
Christchurch City Libraries is proud to be hosting the Ngāi Tahu exhibition Whakaata mai te Kūkūwai – Reflections from the Wetlands in Te Pito Huarewa / Southbase Gallery, Tuakiri | Identity, Level 2, Tūranga. The exhibition is open to the public from Sunday 10 October 2021 until Monday 7 February 2022.
---
Recent Images from Grahame