---
Work Day Reminder, January 15 2022
The next monthly work day will be from 9.00am – noon this coming Saturday.
Please scan the QR code at the door of the Education Centre or fill out a contact tracing form. Presentation of a Covid vaccine pass is not required. Morning tea will be structured to avoid close contact.
I don't know what we will be doing this month, but it's likely to be weeding of one sort or another. If you arrive late there will be a notice on the Education Centre door saying where we have gone.
All tools provided. It may be wet underfoot, so gumboots are advised. If you don't own any we do have some for loan. Please bring your own gloves.
---
Latest News
Report on Last Work Day, 18 December
Following several days of persistent rain the morning dawned fine for our workday. With deep water or mud over much of the wetland, it was decided to alter our plans for the day. Our new aim was a clockwise walk around the main track, clearing debris, overhanging tall plants and weeds.
A team of around 20 people set out and found parts of the track underwater, to the extent that an eel was seen crossing in one spot. Temporary ponds had appeared in normally grassy areas and the air was ringing with the sound of Golden Bell Frogs.
Weed species to keep us busy included cleavers, mallow and blackberry. Unfortunately our enthusiasm resulted in one injury from a grass knife, requiring some first aid back at the Education Centre. It wouldn't be December without Convolvulus and we removed plenty, particularly from flax near the Travis Country houses. Weed-eaters were put to good use on the lush growth of exotic grasses to tidy up verges and make benches more accessible.
Luckily many native species were growing as well as the weeds. The shrubby myrtle species Lophomytus obcordata was putting on a good show of filamented white flowers along the Travis Country boundary. Colin spotted an onion orchid, Microtis unifolia, growing tall in the damp depression around a recently planted shrub.
Further round the track, near the viewing tower, we admired a new wooden bench built by Eleanor's son Chris. It provides very comfortable seating and will be appreciated by those that find the gaps between resting places too long in that part of the wetland.
Back at the Education Centre our efforts were rewarded with a delicious spread of barbequed treats and salads. Thanks to chefs Bruce and Wayne we enjoyed our first barbeque after many months of Covid caution.
Thanks everyone. See you in 2022.
Article: Sue Britain, Images: Grahame
---
New Seat by Viewing Tower
The Trust contracted Chris Bissell to build an indestructible (we hope) Macrocarpa seat, which has been installed by him and the CCC ranger staff on the boardwalk near the foot of the viewing tower.
Passers-by have already commented on how comfortable it is and it also fills a gap in resting places along the circuit.
Thanks to the CCC and the ranger staff for providing the Macrocarpa slabs and assistance with the weighty task of installation of the seat. Special thanks to Chris for making such a comfortable seat and finishing it so nicely.
Images: Eleanor Bissell and Dave Evans
---
Amazing Muehlenbeckia Maze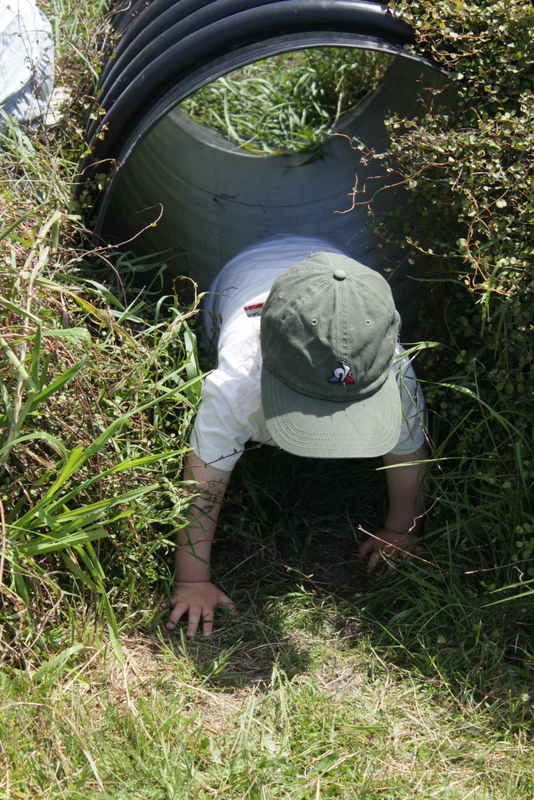 Tunnels to crawl through. A great place to hide from parents. Observant kids find it quickly. [Hint: it is located between the car park and Education Centre.]
Lots of fun as the Muehlenbeckia complexa which it is comprised of is bouncy; the common name being wire vine or wiggy bush. Tororaro its Māori name, forms dense thick masses of tangled creeping vines which are essential habitat for butterflies, moths, a native aphid and a mite. Tasty fruit are eaten by birds and sometimes people.
As well as bouncing on the plants, large tunnels through the mass make it a 'must do' for kids and adults.
New plants will extend the maze to cover the entire slope from the existing part, a safe distance from the roadway, to the Education Centre.
Article and images: Eleanor Bissell
---
World Wetlands Day
The 2nd of February each year is designated internationally as World Wetlands Day. As per usual the Trust will be hosting a guided walk to celebrate the day and as it's a weekday the walk will be on the evening of Wednesday 2 February this year. Details are still to be firmed up, but it's likely to start at 6.30pm from Clarevale Reserve, Travis Country Drive. Another email will be sent out to confirm the event nearer the time,
---
Recent Images from Grahame