---
Work Day Reminder, June 19 2021
The next Travis work day, is Saturday June 19, 9 am – 12:00pm.
Meet at the Education Centre (the old farm house) near the Beach Rd car park at 9 am. Click on the adjacent location map for a more detailed view.
This month we will be planting near the Inwoods Rd entrance. Please join us.
All tools provided. It may be wet underfoot, so gumboots are advised. If you don't own any we do have some for loan.
---
Latest News
Last Work Day, 15 May
Twenty-two people turned out on a mild and slightly breezy morning for a planting session around the area of the bird hide track.
Our main focus was the area to the north of the track where grass and weed control is time-consuming. We hoped that our 200 plants would improve canopy cover and impede weed growth.
Species planted included Astelia fragrans, flax and wineberry. Four species of coprosma were added too, including the well known types C. robusta and C. proprinqua. Lesser known C. dumosa is a small-leafed shrub with layered branches and orange to red fruit. Completing the quartet C. rigida is hardy and small-leafed with divaricating red/brown branches. It has edible white or yellow/orange berries and it provides excellent hiding places for small birds, lizards and invertebrates.
Although we were working in a small area there was a big range of soil types and water levels. Giant umbrella sedge (Cyperus ustulatus) was a useful addition in wet and exposed spots close to waterways. Its long stems with dark seed heads will add interest to these areas in the future.
It's not a workday without weeds and removing our common enemies convolvulus, hemlock and honeysuckle provided a change from planting. Tall, spindly specimens of bushy starwort (Aster subulatus) were also removed, particularly from an area rich in Potentilla anserinoides. This was pleasing as the aster produces tiny white flowers followed by copious seeds which spread far and wide by wind and soil contamination.
Once all our plants were in the ground we used a convenient pile of wood chips and bark to provide mulch around them. A noisy thrush provided the soundtrack to our shovelling and it was soon time to head back to the Education Centre. Refreshments were welcome – especially the orange cake baked by Eleanor for Grahame in recognition of his 10 years of service at the wetland.
Thanks everyone.
Article: Sue Britain, Images: Grahame
---
Harlequin ladybird, Harmonia axyridis
Well it had to happen. Travis is now host to one of the most invasive ladybird species, the Harlequin Ladybird, Harmonia axyridis.
First found in New Zealand in 2016 in Auckland it has rapidly spread down the entire North Island and is now also present down most of the east coast of the South Island.
They are native to eastern Asia and because of their voracious appetites for aphids were introduced into the US and parts of Europe as a bio control agent.
They have now spread across all of North America and most of central and South America. Also most of Europe and the UK.
Because of it's voracious appetite it can out compete other species of ladybird (and is known to eat ladybird eggs and larvae) for the available food supply causing population crashes in native species.
It is also resistant to diseases that kill other ladybird species.
Good reasons why this is known as one of the worlds most invasive insects.
This is a really variable species when it comes to markings ranging from red and orange with few to many black spots through to black with a varying number of orange and red spots.
They are quite a large ladybird adults being in the 5 – 8mm range.
One of the better ways of telling this species from others is they have a M shaped black mark on the segment behind the head (pronotum) as seen from above looking forward. This of course is of no use when looking at the black morphs.
In this case most of them will have some white on the pronotum.
Another good id feature is the leg colour, they are a browny red as are the antennae.
Once you've seen a few of these critters telling them apart from other species becomes easy.
Time will tell how nice these guys play with our 2 and 11 spotted ladybird population.
There's sure a lot of Giant Willow Aphid to eat.
A couple of good resources for more info is the Landcare factsheet
https://nzacfactsheets.landcareresearch.co.nz/factsheet/InterestingInsects/Harlequin-ladybird—Harmonia-axyridis.html
And of course Wikipedia
https://en.wikipedia.org/wiki/Harmonia_axyridis
Article and images: Grahame
---
Wayne's Wednesday Volunteers
Come rain or shine 10am Wednesday sees our group at Travis working.
We clear weedy patches: ivy, convolvulus, blackberry, wire weed along the pathways, yellow lupin, veldtgrass and mallow which frequents the horse paddock in particular. Veldtgrass persists. It's from South Africa and is particularly invasive in areas where the soil is disturbed; flowers for at least 10 months of the year and is difficult to control.
Plants are watered as the need arises [not recently though!] dead branches removed from trees along pathways as well as lots of releasing and replacement of plants that haven't made it.
The 'Muehlenbeckia Maze' (behind the cottage near the Ed Centre) is maintained, Wayne keeps the pathway & tunnels clear so children and adults can have fun!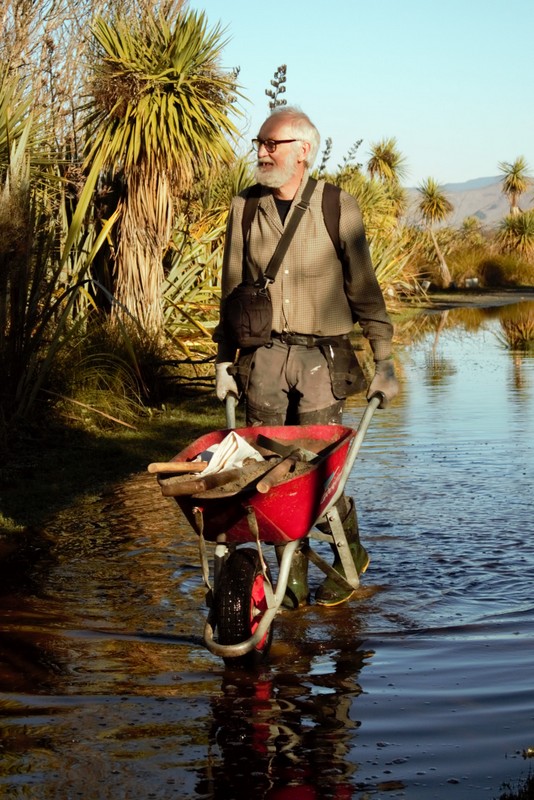 Mairehau Road car park seems to be a favourite place for people to leave unwanted items which could easily go into their red, green or yellow bins. Recently brave volunteers removed and buried the discarded skin of a tahr which was invaded by fly larvae and nearly ready to move on its own!
The Lizard Hilton and the Boreing Drip also benefit from the volunteers' intensive labours.
Rewards? Listening to the birds as we work, swans conversing in loud voices among themselves, so nice to hear thrushes chortling and the deep call of the Australian Cape Barren goose (the closest we have to our extinct NZ goose). Walkers often stop to say thank you. We discover patches of wanted plants flourishing and producing fruit as well as seedlings — tōtara, white pine, lace bark – it's exciting and rewarding.
The most exciting reward recently was splashing through flooded waters in our gummies, with our equipment, to reach drier ground where we could work!!!
Article and images: Eleanor Bissell
---
Fishy Business
The CCC rangers have been working on a number of fish related projects in recent months. If you've called by Charlie's seat recently you may have noticed the eels that are used to being fed there. They are very "friendly" and will come part way out of the water for a treat. The bank to the pond has been in danger of collapsing so the rangers have decided to use gabion baskets containing clean river rocks to reinfoce the pond edge. Geotextile cloth has been used behind the gabions to protect the ground and tree roots.
Early in May trapping was done in association with DOC to see if any mudfish could be detected. This was in the vicinity of where some were released about 10 years ago. Eighty Gee-minnow traps were set out, but unfortunately no mudfish were caught. Seven water samples were taken and these were analysed for the presence of mudfish and other species of interest. Results showed a strong signal of short-finned eel, a weaker signal of long-finned eel, no sign of mudfish (unfortunately) and a goldfish signal from one transect (also unfortunately).
At hard rush corner by the Travis Rd / Frost Rd roundabout the flap gate on the culvert through to Lake Kate Sheppard was removed to improve fish access. The gate was part of a system for pushing water around the wetland, but hasn't been needed since changes to the water table as a result of the earthquakes. Travis is essentially now always wet enough and water doesn't have to be stopped from leaving.
Article: Dave Evans from John's report, Image: Grahame
Membership or donations by cheque
Once Westpac goes cheque free on 25 June the Travis Wetland Trust will no longer be able to accept payments by cheque. If you don't have any other options available to you then please contact treasurer Dave Evans (366-0628 or 021-043-7128) and we'll see what can be arranged.
---
Recent Images from Grahame