---
Work Day Reminder, June 18 2022
The next monthly work day will be from 9.00am – noon this coming Saturday.
Please make sure we have your attendance recorded and a contact phone number and please let us know if you subsequently come down with Covid and could have been infectious at the time of the work day. Presentation of a Covid vaccine pass is not required. Morning tea will be structured to minimise close contact.
On the work day we'll be planting in the new butterfly garden and at the Inwoods Rd entrance. If you arrive late there will be a notice on the Education Centre door indicating where we have gone.
All tools provided. It may be wet underfoot, so gumboots are advised. If you don't own any we do have some for loan. Please bring your own gloves if you can.
---
Latest News
Report on Last Work Day, 21 May
A crisp, frosty morning brought 17 keen folk to the wetland to help with infill planting in the Mairehau dune area. The walk to our worksite was a welcome way to warm up.
We had about 100 plants of a variety of species to put in, concentrating mainly on dry areas where previous plantings had failed. Despite rain the day before, the sandy soil was bone dry when we dug our holes. Watering was therefore very important and, after dealing to a hose with serious frost damage, we were kept warm and busy carrying buckets.
Previous plantings were doing well in most places and Wayne was impressed to find young trees bursting out of their plastic guards. A bit of weeding and removal of rubbish near the roadside helped to tidy the area. Some planting holes were hard to dig with rubble and old wire fencing impeding progress.
Observant planters found some invertebrate life, including katydids and praying mantis. Later on, back at the Beach Road entrance, some of us watched winter copper butterflies (Lycaena sp.) flitting around on their food plant, the appropriately named creeping wire vine (Muehlenbeckia axillaris). We look forward to seeing more of these in the future as we develop new habitat for them near the car park.
Article: Sue Britain, Images: John Dunlop
---
Butterflies at Ōruapaeroa / Travis Wetland
The tangle of Muehlenbeckia australis by the car park caught the attention of entomologist Brian Patrick, an expert on NZ butterflies. Brian has helped several schools establish butterfly gardens to provide habitat for the butterflies and to enable us to appreciate them. Earlier this year Brian released 6 female and 6 male Winter copper butterflies (previously Canterbury copper) in the M. australis at Ōruapaeroa/Travis. On a warm autumn day recently Brian was excited to discover that the release had been a success and we saw several bright orange butterflies flying about. We are now adding stones for sun bathing and plants for food (see following article).
Article: John Skilton, Image: John Dunlop
---
Mysterious Earth and Stone Works
Is great to have ranger Kenny back and almost immediately he is on to the digger and scooping out topsoil for the next development phase at Travis: the new Moth and Butterfly Habitat inspired by the famous local lepidopterist Brian Patrick. Some essential (if you're a Canterbury butterfly) Muehlenbeckia axillaris were planted there last week and it was very exciting working among the stones!!!
On the June work day we plan to have some more plants available so that all volunteers can add a plant!!! After that we are going to add a variety of suitable species to those already at the Inwoods Rd entrance.
We're hoping to emulate the successes at Charlesworth Reserve, which you can read about here and also at Burnside Primary School, where a recipient of a 2021 Prime Minister's Science Prize, Bianca Woyac teaches.
Article: Eleanor Bissell, Image: John Skilton
---
New Vagrant Bird Records For Travis
Hi Folks. In the past month we have had not one but two new vagrant species added to the Travis bird list.
First up was a Sharp-tailed sandpiper, Calidris acuminata seen over 2 days around June 4th.
The Ebird record and some photos are here.
A small number of these migratory birds reach NZ from Siberia each year. While a few birds are often recorded during the annual bird survey at Te Waihora / Lake Ellesmere, this is the first time the species has been recorded at Travis. More info on NZ Birds Online.
The second bird was a male Chestnut teal, Anas castanea found on June 5th.
Report and images on BirdingNZ here.
The chestnut teal is an abundant Australian species of duck that is sometimes seen in NZ, particularly at the Manawatū Estuary. While they have been recorded before on the Bromley oxidation ponds (currently not a very desirable location), it's a new species for Travis. More info on NZ Birds Online.
This now brings the total for number of bird species seen at Travis to 81.
Article: Grahame, Image: Noah Fenwick
---
Forest and Bird petition
If you haven't done so already consider supporting a F&B petition calling for the protection and restoration of our precious wetlands.
---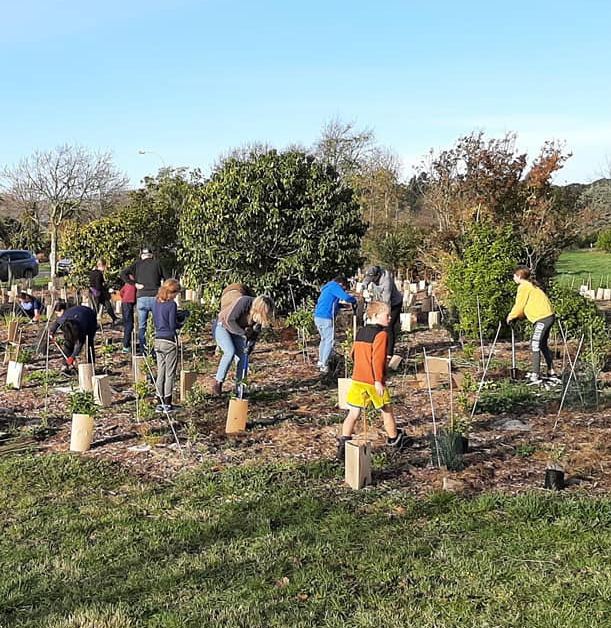 Other Planting Opportunities
It looks like planting season is in full swing and here are a couple of local planting opportunities you might like to take up:
Saturday 25 June, Avon-Ōtākaro Forest Park extend an open invitation for the public to participate in a 'Planting Event' at Horseshoe Lake Reserve. Facebook event here.
Sunday 3 July, planting 5000 native trees in the former residential red zone. Eventbrite event with more details.
---
Images from Grahame