---
Work Day Reminder, March 21 2020
The next Travis work day, is Saturday March 21 2020, 9 am – 12:30.
Meet at the Education Centre (the old farm house) near the Beach Rd car park at 9 am. Click on the adjacent location map for a more detailed view.
We'll probably be doing some releasing somewhere around the wetland, but plans change with the weather! When we leave the Education Centre to work elsewhere in the wetland a notice board in the porch will indicate where we have gone, if it's not obvious. Please join us.
All tools provided. It's liable to be wet underfoot, so gumboots are advised. If you don't own any we do have some for loan.
---
Latest News
Work Day, Saturday 15 February
This was a cloudy morning with a strong easterly breeze and a few ominous raindrops. Luckily 15 people arrived to do some releasing of plantings on the Mairehau dune area.
At the eastern end of the dunes growth was very lush with grass and other weeds doing their best to cover native shrubs. Some areas were too dense to penetrate but we cut back weeds around the edges. It was heartening to see that cleaver weeds had dried out and could be easily pulled off shrubs. It was good to locate plants that had been completely hidden and give them good bamboo markers.
Heading west the area is drier and there were many interesting small plants to weed around. Some native broom plants were found that did not appear to have been planted by us – a hopeful sign that natural spread is occurring.
Muehlenbeckia plants were in flower along the track and several people spotted praying mantis during the morning.
Back at the Ed Centre we enjoyed hot drinks, a variety of food and plenty of good conversations. Colin Meurk had brought along 3 landscape architecture students from Seattle and they were very enthusiastic about volunteering in Canterbury. They are working on plans for regenerating the red zone, particularly around the proposed landings along the Avon, and were very interesting to chat to.
Thanks to everyone who came along.
Article: Sue Britain, Image: Mike Bourke
---
Ichneumonidae
In evolutionary terms, Ichneumonidae is a relatively primitive wasp family, descended directly from a group of insects that occurred about 250 million years ago. The current estimate for the number of species in this family is around 100,000 with only 25% of that being described so far.
Ichneumonid wasps are parasitic laying their eggs in the immature stages of holometabolous (four life stages: egg, larva, pupa, adult) insects and spiders. Female ichneumonidae have developed ovipositors to lay their eggs inside the host, these are sometimes longer than the body length of the wasp. Unlike the more familiar aculeate wasps (think German or Common wasp etc) ichneumonidae don't sting. Ichneumonids are distributed worldwide and can be found in most habitats. The exception being they are not found in Antarctica. Because the various species are host specific they have been used as an effective bio control of crop damaging pests like beetles, butterflies and moths etc.
Ichneumonidae are relatively easy to find at Travis. Just sit in any patch of long grass with a few flower heads from spring to autumn and eventually along will come a little orange, red or yellow jewel usually with a few black markings. They sit for a while on a plant stem antennae consistently quivering looking for their next meal of a smaller insect or some nectar or in the males case a potential mate. They are relatively easy to find, harder to get a good look at and harder still to identify to species level. There are also similar looking closely related wasps belonging to the Braconidae family that will come along as well.
Article and images: Grahame Bell
---
Boardwalk Extension
The Travis boardwalk is currently closed from Sanctuary Villas through to Clarevale Park. This is so the boardwalk can be extended from near the observation tower through to Clarevale. In recent years this section of track had gone underwater during the winter despite being raised several times. The contractor has allowed 8 weeks for the extension, but could have it finished in 6 weeks if all goes well. Although there are probably many people whose wetland circuits have been disturbed by the work I'm sure they will appreciate it when they no longer get wet feet in the middle of winter.
Article: Dave Evans, Image: Grahame Bell
---
Shrubby Tororaro
On the February work day Colin noted that the Shrubby Tororaro bushes by the path were in flower. Shrubby Tororaro, or Muehlenbeckia astonii, is an interesting plant. As Wikipedia says: "Although common in cultivation around the world, it is extremely rare and threatened in the wild." You may have heard of recent disputes over irrigation and land clearance on Kaitorete Spit. Muehlenbeckia astonii was at the centre of the dispute because Kaitorete Spit is where most of the wild population of it lives. "Its former range is hard to determine, as the species was only recognised by botanists decades after most of New Zealand's dry scrublands had been cleared for agriculture. Its deep root system helps it survive in dry conditions." It has tiny flowers, which are quite fleshy, and through the winter they swell into tiny fruit. "These fruits are sugary and edible, eaten by birds and lizards (which disperse the seeds), and by mice (which pulverise and kill the seed)." Unusually for a NZ plant it is deciduous.
Looking at the way it grows in my garden it's hard to understand why it's rare in the wild. It's taking over. It's a great wind break and I love the way its flowers and fruit attract silvereyes. I used some prunings to mark a row of carrots and they are sprouting vigorously. It's a real battle to get the prunings into the green bin as it's strongly divaricating and very springy. "Three wild populations (at Cape Campbell, Balmoral Conservation Area, and Kaitorete Scientific Reserve) have legal protection and are undergoing restoration. Once threats are removed, wild populations of M. astonii appear to respond rapidly, so there is an excellent chance that this endangered species will recover."
Quotes from the Wikipedia article. https://en.wikipedia.org/wiki/Muehlenbeckia_astonii
Article: Dave Evans, Images: Colin Meurk and Dave Evans
---
Recent Observations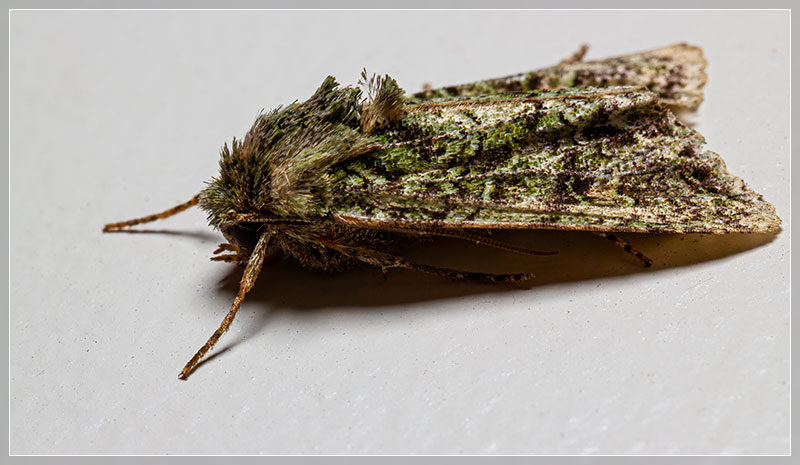 Images: Grahame Bell