October 2016
Workday reminder, October 15 2016
Travis Monthly Workday, Saturday October 15 2016, 9 am – noon.
Meet at the education center (the old farm house) behind the Beach Rd car park at 9 am.
We will be infill planting down the Matai / Totara in last months Trees for Canterbury planting area.
Bring your own gumboots but don't worry if you don't have any we can loan you some.
All gear provided.
There will be "morning tea" afterwards for those that want to stay for a chat.
Travis Wetland Trust AGM
The AGM will be held on October 18 at 7 pm in the education center.
This years guest speaker is Emma Williams, her address will be about Australasian Bittern.
Supper will be provided.
Latest News
Trees for Canterbury planting day, September 17 2016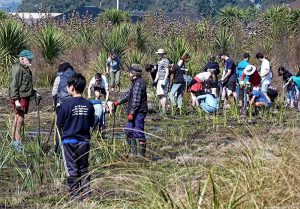 As usual in September the Trust hosted a public planting day in association with the generous folk from Trees for Canterbury. The weather was fabulous and the turnout was a record! It was great to see lots of young people enjoying themselves in the mud, there would have been a lot of skin to scrub and washing to do at the end of the day! With a large groups of scouts, students from the Volunteer Army, several families and many other people there were well over 100 of us enjoying the spring sunshine.
Did I say it was muddy? It was a challenge for the CCC rangers to get the plants on site and laid out in the wet conditions. Many thanks to John and Kenny (also Denise,Al and Grahame) for doing this dirty work. Considering it has been a relatively dry winter there was a lot of water lying about. Lets hope that as the plants grow they suck up some of the water. As you would expect the species planted are tolerant of wet feet, but many of them will be happier as the season advances and the water level drops. The upside was not having to water the plants in.
In an unusual move the plants were placed in rows so that a mower can be run between them. This will reduce the need for environmentally unfriendly and expensive spraying. As the pioneer species grow up we will be able to plant smaller numbers of less common and more expensive species in the gaps that inevitably appear. Over time the lines will become less and less visible..
The planting was followed by the traditional BBQ with Al and Joe making a great job of cooking up a heap of food for the throng. They have had plenty of practice at this and produce great looking sausages, onions and felafel patties. John thought he had bought more than enough sausages, but they were all consumed, along with the salads provided by the Trust board members. Next year we'll have to make sure we have more sausages on hand, in case the big turnout is repeated.

Many thanks to Trees for Canterbury for their ongoing support of Travis Wetland and many other planting sites around the city. The trees they donate each year have massive impact on the appearance of our natural environment and their work has a fabulous social impact too, please support them by buying native plants for your garden from them.
Words by Dave Evans.  Images by Colin Meurk, John Skilton.